Stonage is a remake of an old computer game made by Eclipse on Atari and Amiga computer called "Stone Age"
This game requires SDL and works on Unix (tested only on a GNU/Linux).
See the Screenshots for some view of games. Beware some graphics is copyrighted and needed to be replaced. I'm working on this, so do not put this on a Gnu/Linux distributions.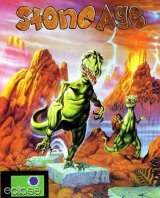 Resume
The dinosaur is lost, find the exit to the surface. It's a stupid dinosaur, he can't jump but can displace some rock on the ground. Just 50 levels before the surface.
Goal of the game
Move the dinosaur to the next stair and goto to the surface.
Your dinosaur can move square using kinesist power (It's a great dinosaur). Push the space button to move the kinesist or select an object.
Keep your score high.
You can't fall but perhaps i'll made a patch :)
Details
All levels is in simple text file. You have an example here
Files